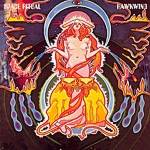 SPACE RITUAL (1973)
Financed by the fluke success of the single "Silver Machine," the SPACE RITUAL tour marked the conceptual and musical pinnacles of BLANGA.
The DOREMI line-up was supplemented by poet Robert Calvert, who had drifted in and out through 1971-2 as an integral part of the rambling live proceedings and who had originally sang "Silver Machine" in concert only to have his vocal wiped for Lemmy's more suggestive and more successful growl.
This is a two-disk live set of non-stop, high intensity BLANGA. It's simply unrelenting and positively riveting.
Calvert's declamation of "Sonic Attack" (written by fantasy novelist Michael Moorcock, who peaked on his first Hawkwind appearance) is one of the scariest and most potent moments in vinyl history.
This is the real thing. As Lux said, if you can't dig this, you can't dig nothing. If you only own one Hawkwind record, it should be SPACE RITUAL.
BLANGA SCORE: 10.